1. Adrienne Arsht Center for Performing Arts
1300 Biscayne Blvd, Miami, FL 33132
2. FTX Arena
601 Biscayne Blvd, Miami, FL 33132
(Home to the Miami Heat)
3. History Miami Museum
101 W Flagler St, Miami, FL 33130
4. Knight Concert Hall
1300 Biscayne Blvd, Miami, FL 33132
5. Lyric Theater
819 NW 2nd Ave, Miami, FL 33136
6. Freedom Tower at Miami Dade College
600 Biscayne Blvd, Miami, FL 33132
7. Olympia Theater
174 E Flagler St, Miami, FL 33131
8. Philip and Patricia Frost Museum of Science
1101 Biscayne Blvd, Miami, FL 33132
9. Perez Art Museum Miami
1103 Biscayne Blvd, Miami, FL 33132
10. Silverspot Cinema
300 SE 3rd St, Miami, FL 33131
11. Maurice A Ferré/Museum Park
1075 Biscayne Blvd, Miami, FL 33132
12. Bayfront Park Amphitheater
301 Biscayne Blvd, Miami, FL 33132
13. CVS
1201 Brickell Ave, Miami, FL 33131
14. Miami Dade College
300 NE 2nd Ave, Miami, FL 33132
15. Publix
1776 Biscayne Blvd, Miami, FL 33132
16. Walgreens
200 SW 13th St, Miami, FL 33130
17. Whole Foods
299 SE 3rd Ave, Miami, FL 33131
18. Bayside Market
401 Biscayne Blvd, Miami, FL 33132
19. Giant Head Statue
1103 Biscayne Blvd, Miami, FL 33132
20. Miami Walk of Fame
401 Biscayne Blvd, Miami, FL 33132
21. Miami Worldcenter
1010 NE 2nd Ave, Miami, FL 33132
22. Nite Owl Drive-In + Tropical Market
1400 NE 1st Ave, Miami, FL 33132
23. Skyviews Miami Observation Wheel
401 Biscayne Blvd, Miami, FL 33132
24. Crossfit Downtown Miami
1311 NE 1st Ave, Miami, FL 33132
25. Orange theory Fitness
269 NE 2nd St, Miami, FL 33132
26. Yoga in the park
1301 Biscayne Blvd, Miami, FL 33132
27. Black Market
401 Biscayne Blvd, Miami, FL 33132
28. Caffe Tonny
192 NE 3rd Ave, Miami, FL 33132
29. Central Fare at MiamiCentral
600 NW 1st Ave, Miami, FL 33136
30. Delicatessen Patagonia
550 NW 1st Ave, Miami, FL 33136
31. Eleventh Street Pizza
1035 N Miami Ave, Miami, FL 33136
32. JOE & THE JUICE
300 S Biscayne Blvd, Miami, FL 33131
33. La Industria Bakery & Café
401 Biscayne Blvd, Miami, FL 33132
34. La Estación American Brasserie
550 NW 1st Ave, Miami, FL 33136
35. Lombardi's Miami Italian Restaurant
401 Biscayne Blvd, Miami, FL 33132
36. Mambo Café
401 Biscayne Blvd, Miami, FL 33132
37. Mana Poke Downtown Miami
888 Biscayne Blvd, Miami, FL 33132
38. Marina's Bar & Grill
Biscayne Blvd Way, Miami, FL 33130
39. Mondu
236 NE 1st Ave, Miami, FL 33132
40. Rakija Grill
139 NE 3rd Ave, Miami, FL 33132
41. Sagrado Café
900 Biscayne Blvd, Miami, FL 33132
42. Segafredo Bayside
401 Biscayne Blvd, Miami, FL 33132
43. Swagat Indian Kitchen
900 Biscayne Blvd, Miami, FL 33132
44. Sushi Sake
900 Biscayne Blvd, Miami, FL 33132
45. Verde
1103 Biscayne Blvd, Miami, FL 33132
46. Zuma Miami
270 Biscayne Blvd Way, Miami, FL 33131
47. Metromover
, Miami, FL 33131
48. MiamiCentral – (Brightline)
600 NW 1st Ave, Miami, FL 33136
501 First Miami
501 NE 1st Ave, Miami, FL 33132
MUSEUMS & CULTURE
1. Adrienne Arsht Center for Performing Arts
2. FTX Arena
3. History Miami Museum
4. Knight Concert Hall
5. Lyric Theater
6. Freedom Tower at Miami Dade College
7. Olympia Theater
8. Philip and Patricia Frost Museum of Science
9. Perez Art Museum Miami
10. Silverspot Cinema
PARKS
11. Maurice A Ferré/Museum Park
12. Bayfront Park Amphitheater
ESSENTIALS
13. CVS
14. Miami Dade College
15. Publix
16. Walgreens
17. Whole Foods
SHOPPING
18. Bayside Market
19. Giant Head Statue
20. Miami Walk of Fame
21. Miami Worldcenter
22. Nite Owl Drive-In + Tropical Market
23. Skyviews Miami Observation Wheel
FITNESS & WELLNESS
24. Crossfit Downtown Miami
25. Orange theory Fitness
26. Yoga in the park
DINING
27. Black Market
28. Caffe Tonny
29. Central Fare at MiamiCentral
30. Delicatessen Patagonia
31. Eleventh Street Pizza
32. JOE & THE JUICE
33. La Industria Bakery & Café
34. La Estación American Brasserie
35. Lombardi's Miami Italian Restaurant
36. Mambo Café
37. Mana Poke Downtown Miami
38. Marina's Bar & Grill
39. Mondu
40. Rakija Grill
41. Sagrado Café
42. Segafredo Bayside
43. Swagat Indian Kitchen
44. Sushi Sake
45. Verde
46. Zuma Miami
TRANSPORTATION
47. Metromover
48. MiamiCentral – (Brightline)
GLOBAL
CITY
MIAMI IS QUICKLY
BECOMING A GLOBAL
HUB FOR BUSINESSES
THAT ARE MAKING A MARK.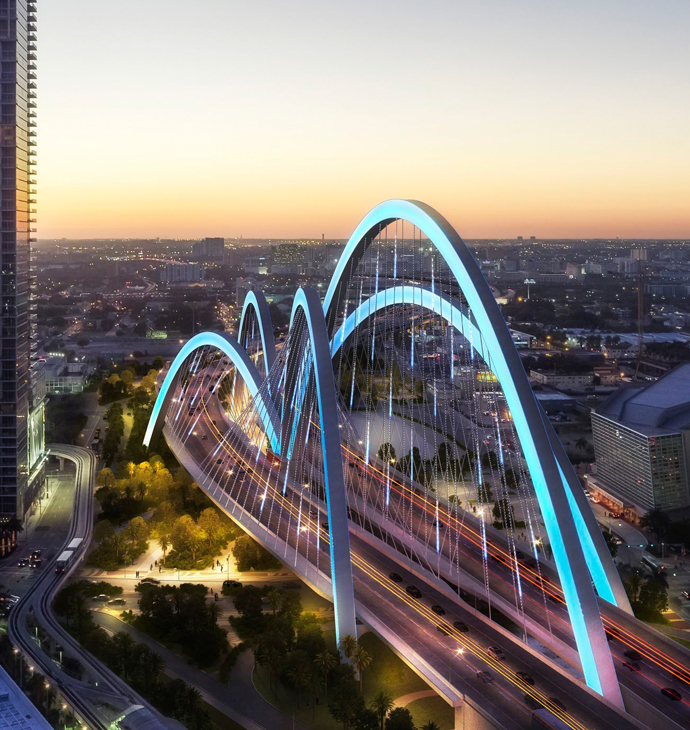 MIAMI
I-395
New enhancements are already underway to reconnect Miami's Downtown, Midtown, and Edgewater neighborhoods with a 1.4-mile highway project, signature bridge, underline greenway and park, revitalized street-level retail, community art and engagement facilities, and much more. The iconic archway will span NE 2nd Avenue and Biscayne Boulevard and connect to the MacArthur Causeway towards Miami Beach.
1.4M
MILES LONG, 2026 EXPECTED COMPLETION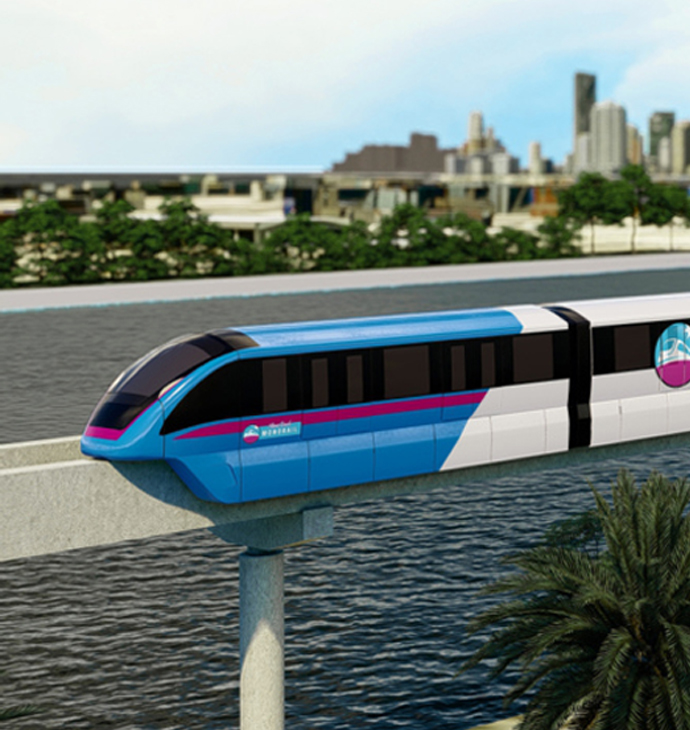 MIAMI
BAYLINK
The beach and the city united – this is the vision behind the Baylink, a mix of bus rapid transit (BRT), water taxis, and expanded Metrorail service to Miami International Airport, Miami Marlins Baseball Park, Florida International University, and other top destinations.
2026
EXPECTED COMPLETION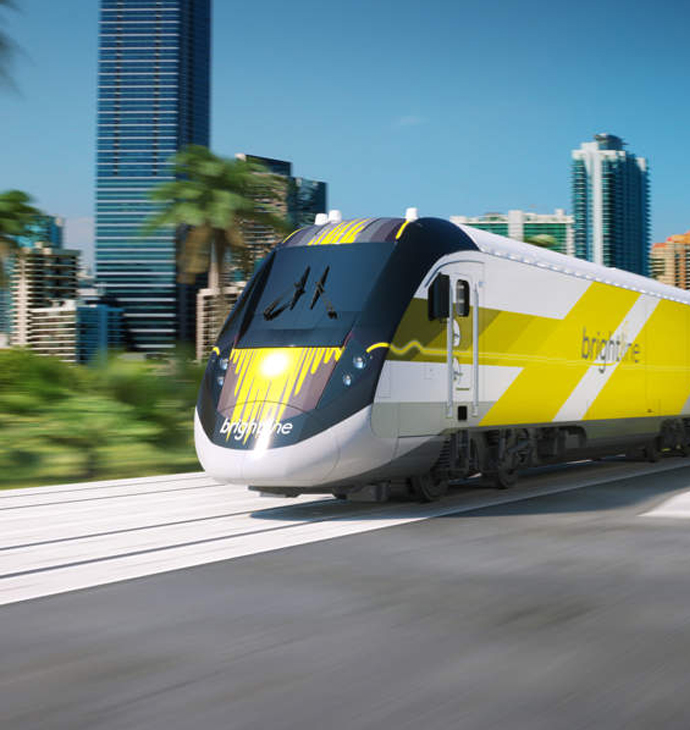 BRIGHTLINE
TRAIN
Brightline high-speed rail service is designed to connect South Florida to Central Florida while taking cars off the road and offering millions of travelers an eco-friendly way to move. Brightline currently connects passengers from Miami, Fort Lauderdale and West Palm Beach and in 2022 will connect to Orlando with a later goal to connect Orlando to Disney World and Tampa.
+10M
PROJECTED ANNUAL VISITORS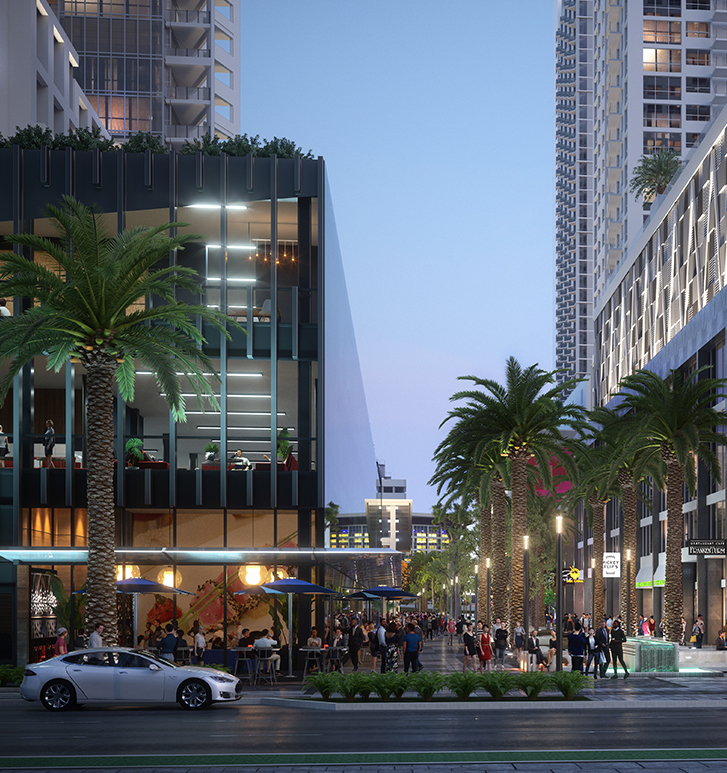 MIAMI
WORLDCENTER
Occupying nearly 30 acres in the heart of downtown Miami, Miami Worldcenter is the biggest mixed-use development in the U.S. after New York's Hudson Yards. The ten-block project will include world-class retail, hospitality and residential uses in the center of Miami's urban core. All told, the project is expected to account for $3 billion in new investment within downtown Miami.
$3B
DOWNTOWN MIAMI NEW INVESTMENT